Statistics For User : harbort
back to main page

Summary Period: 2002-11-29 to 2003-02-06

Total Changes
62 (3.5%)
Lines Of Code
1669 (2.1%)
Modules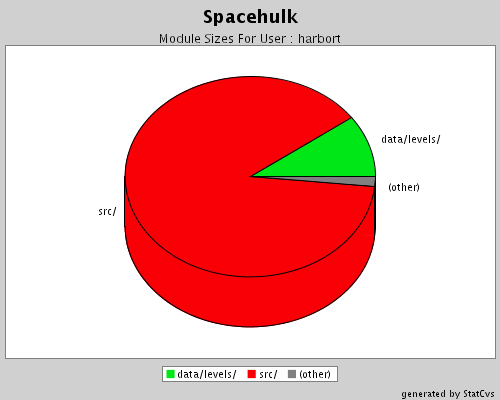 | Module | Changes | Lines of code | Lines each change |
| --- | --- | --- | --- |
| src/ | 29 (46.7%) | 1478 (88.5%) | 50 |
| data/levels/ | 12 (19.3%) | 166 (9.9%) | 13 |
| data/sounds/ | 15 (24.1%) | 19 (1.1%) | 1 |
| / | 6 (9.6%) | 6 (0.3%) | 1 |
| Sum | 62 (100%) | 1669 (100%) | 26 |
Last Comments
06/02/03 20:10 : Ok, so I added the sounds. I hope everything will work fine, it does on my computer. Notice that under Linux you need NAS (Network Audio System) for the sound to work. All the sounds do not appear to be played, also the movement sounds were not placed because I didn't find where to place it.
11/01/03 09:31 : Yoops ... I forgot to put the two files for the level functions
10/01/03 14:36 : Large modifications in the XML files : - the test blocks are deleted, you now include directly the test - the eval block created to compute number and stored it in a "variable" - the computation functions and test and numbers added
17/12/02 21:03 : I corrected the use of the unknown 'xor' operator and replaced it by a little macro. Then I limited the number of genestealer in a single case to 3. It's a bit dirty, but it works and I'll find something a lot better ... promise !
29/11/02 21:19 : Ok, so I corrected the level campaign1-3 for there were some errors. I also implemented the "leaved" condition and added a very usefull feature : you can now add a zone_set in a zone, in order to define everything only once ! But I now have a big problem : every time I move the mouse the screen begins to flicker brrr... so ugly !!! And my marines cannot exit, and I don't know why.